We're women who care about the next generation!
At Daring Daughters, our passion is to inspire women of all ages for local and global missions. We have a heart for God's Great Commandment and God's Great Commission. We love God, we love others, and by His grace, we DARE to OBEY.
As God-loving women, we want to glorify God's Name, wherever He calls us — reaching the neighbors next-door or the nations across the globe (along with the children entrusted to our care, right in our own homes!).
Break my heart for what breaks Yours. 
Everything I am for Your kingdom's cause.
Show me how to love like You have loved me.
Our hearts beat for God's purposes and they "break" for the evils and injustices of our world. And we DARE to pray and to ask God how we can help.
As mothers (and as mentors), we want to seek God fervently, with our lives and our families in God's daily divine balance. We want to effectively train our daughters (and all of our children) to love the Lord and to glorify Him. At the same time, we long to be examples of God's mercy and compassion.

As daughters (and girls of this generation), we want to prepare for our future, while fully embracing and enjoying this season. We want to live with a biblical, self-sacrificing perspective, that's so different than today's selfish, humanistic mindset. We choose to worship God and to enjoy Him forever . . . and somehow, we also want to shine for Jesus in our dark and hurting world.

We're bringing the generations together . . .
As Director of Daring Daughters, I welcome you to JOIN us! I'm Ann Dunagan, director of Daring Daughters, and I'm excited about what God is doing and who He is bringing together. (Meet our contributing mentors!)
We have a vision for women, especially mothers and daughters, who desire to fervently seek God's purposes. We see the generations coming together — with the spiritual wisdom and perspective of motherhood combined with the creative zeal of youth. We envision the potential in many mother-daughter-teams and mentor-groups . . . and pray for God's kingdom to come!
Together, as we fervently seek the Lord and His purposes, God can give us His fresh perspective for living with wholehearted devotion and day-by-day purity. Instead of merely "fulfilling responsibilities" and "following rules" we want to live with a higher vision. We want God to mold us — from the inside out — and to train us for His leadership and service. We surrender everything to Him and allow Him to work through us, however He desires, whether His plans are adventurous and big, or simple and small.
As moms and daughters, we seize each day, while preparing for the future and investing in eternity. We're embracing the here-and-now to obey God with both radical obedience and daily faithfulness.
As mothers, (and as mentors) we're reaching up to God, to magnify Him and to let our hearts begin to dream again, as in the days of our youth.

As daughters, (and as girls of the next generation) we're ready to learn . . . and to step up to God's calling for the days to come!

We're all Daring Daughters . . . who DARE to obey God!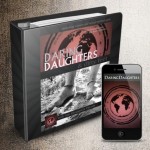 Click here to
Learn about our
Daring Daughters e-course!


---