Photo by Danette Childs
The political and spiritual situation in Niger, West Africa needs our prayers.
For decades, this poverty stricken nation has lived in relative peace, with a population 98% Muslim and a relatively tiny (0.3%) Christian minority.
Sparked from recent the anti-terrorism demonstrations in Paris (in response to Muslim attacks against a French political satire cartoon) and massacres on the border in Nigeria from boko haram (meaning "Western education is forbidden"), extremists reacted by terrorizing and burning Christian churches and ministries.
At Daring Daughters, we are personally connected to this situation through Ann Dunagan's son-in-law and daughter, Trae & Christi Childs (currently serving in Niger) and Trae's missionary mom, Danette Childs (a frequent contributor here at Daring Daughters).
---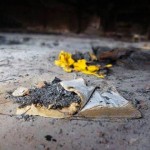 Christian Aid Mission, with workers in Niger, has posted an informative news article:
Christian Aid Mission
Violence in Niger Weighed as Question of Another Eruption Looms >>> Read new article <<<
---
Headlines of the news from Niger include the burning of 72 churches, at least 10 people dead and over 170 people injured. On social media, please search the hashtag #prayforniger for current prayer needs. Please be praying. (and click here to give.)
---