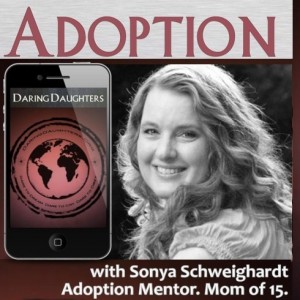 At Daring Daughters, Sonya Schweighardt is our ADOPTION Mentor. As a mother of 15 children (including a dozen adopted children from the US child/foster care system, from Liberia and Ethiopia, and from several "disrupted" adoptions), Sonya (along with her husband, Russell) is passionate about orphans and adoption. She enjoys mentoring families throughout the adoption process, from pre-adoption consideration to post-adoption life.
As an adoption advocate, Sonya communicates with experience and compassion. She and her family live in North Carolina and her website is Responding in Faith.
---
In our
12-WEEK Daring Daughters E-COURSE
, Sonya Schwaighardt teaches our WEEK #7 LESSON — ORPHANS & ADOPTION.
---
Follow Sonya on Facebook
Follow Sonya on Twitter
Follow Sonya's posts on Daring Daughters < <


---