Today, on "Dare to Rejoice . . . in Missions!" we're meeting missionary Kathy Knepper and her family, from El Salvador, and talking together about Kisses from Katie, by Katie Davis.
---
Dare to Rejoice . . . in Missions! #9
With Ann Dunagan and missionary guest, Kathy Knepper
(24 minutes) DOWNLOAD today's mp3
For more audios in this "Dare to Rejoice…in Missions!" series
More on Daring Daughters about Kisses from Katie
---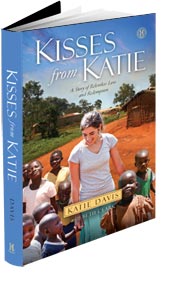 Thoughts about 'Kisses from Katie'
from Missionary Kathy Knepper:
"This whole book is written in such a transparent and heartfelt way that it's hard to pick a favorite part.
The first time I read it, I know that the part that spoke to me the most was the chapter, "Counting the Cost" because it touched on a situation that I was going through at the moment.
But I can say that what I love about this book is the spirit of courage that poured forth from such a young woman, not because she was brave, or had it all together, or was financially stable and had a 5-year-plan, but simply because she chose to be obedient to her God and Savior, KNOWING that He is able to complete that which He sent her to do.
The moments of self-giving, sacrifice, and pain are poignantly portrayed here without reservations, yet even as he speaks of those times of pain, sorrow, frustration, and suffering, there written down is also her willingness to bear these with joy because it's His hand that sustains her. Awesome encouragement. Love it." — Kathy
---
Meet Kathy Knepper and her family in El Salvador
We are a family of missionaries who were called by God to serve Him in the foreign mission field and sent out by our church Calvary Chapel Costa Mesa. We have 4 wonderful kids ages: 15, 13, 11 and 10, and we've been working among the people of El Salvador for nearly 6 years now.
The heart of our ministry is the power of the Word of God to save lives, we study the Bible verse by verse and look at the full counsel of God. We also have a helps ministry that ministers to the homeless, orphaned and sick by praying with, ministering to and providing practical needs for those who are in need in the name of Jesus. Among other things. The Lord has blessed us abundantly and poured out His grace upon us and allowed us to serve Him, for that we are truly grateful.
---
Reach for God-Sized Dreams . . . with Daring Daughters!
---
Come join the discussion
(with a comment below).
Add a thought about Kisses from Katie . . . or a word of prayer or encouragement for Missionary Kathy and her family: