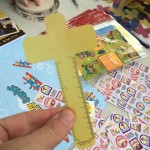 For all of you mission-minded moms, here are some fun (and easy) ideas to teach your kids to remember all that Jesus did for us on the Cross.
The central focus of Christianity is the Cross and the empty Tomb — the sacrificial death and glorious resurrection of our Lord Jesus Christ.
There are many ways to focus on the message of the Cross and the Resurrection of Jesus. Easter time is also a great time to share the Gospel and to invite people to come to church. Even simple ideas can help to make this holiday meaningful and Christ-centered.
15 Special Easter Ideas for Your Family

1. Celebrate Communion.
2. Watch a movie @ the Passover (like Ten Commandments)
3. Watch a JESUS movie (like Matthew, JESUS, or the PASSION)
4. Go to a farm and pet baby lambs.
5. Find a LIVE passion play to attend with your kids.
6. Use Easter decorations to witness about Jesus.
7. Go to an Easter egg hunt specifically to invite people to church.
8. Decorate eggs with themes about JESUS and the CROSS.
9. Invite kids over for an Easter party.
10. Read a children's book about the CROSS.
11. Have a springtime EASTER-theme party for little girls.
12. Give away copies of THE SCARLET CORD.
13. Have your kids draw pictures of the CROSS and give away.
14. Invite families to church.
15. Sing songs about the CROSS and the BLOOD of JESUS.
USE SPRING DECORATIONS TO START A CONVERSATION about JESUS.
During Easter week, you will likely see Easter decorations in many different locations — at grocery stores and drug stores (selling Easter egg decorations and food coloring sets), in department stores (by little girl dresses and ladies dresses), in shoe stores (selling cute dress-up shoes for Easter).
WITNESS AT A CITY EASTER EGG HUNT
Many families will decorate eggs, but they have no idea about the real meaning of the Cross and the Resurrection. Brainstorm a few specific ways that your family make an impact, this week, for Jesus. Perhaps you could go to a local Easter egg hunt and invite people to church. Maybe you could go to a grocery store and hang out by the egg dye to talk to a few people about Jesus. Maybe you could invite a few neighborhood kids over to decorate eggs and then talk about Jesus. Be prepared to share the Gospel this week — have Gospel tracts handy or simple invitations to church (even extra church bulletins or hand-made invitations).
Learn how one mission-minded family has shared the Gospel of Jesus in their community for 20 years — all through an annual Easter egg hunt!

DECORATE EGGS WITH GOSPEL THEMES
If you decorate Easter eggs, include pictures of the cross and the empty tomb, and words such as "JESUS IS ALIVE!" or "I LOVE JESUS!" (You can write these words with a color crayon before you put the eggs in the dye.)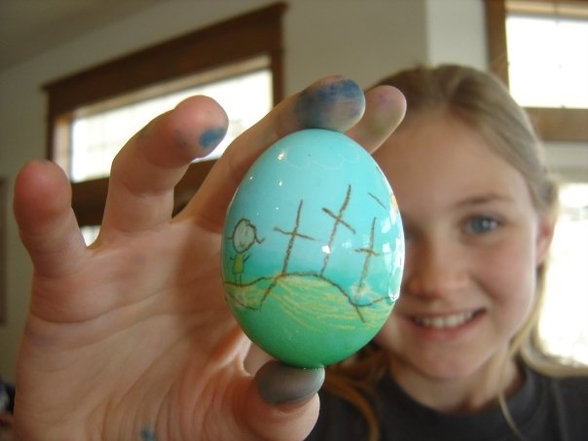 INVITE GIRLS OVER FOR AN EASTER PARTY.
Have fun Easter-themed decorations and treats. Read aloud from a Christian children's book which focus on the true meaning of the Cross and the Resurrection of Christ, such as any Bible storybook. Two of our family favorites are The Tale of the Three Trees, or The Little Rose of Sharon.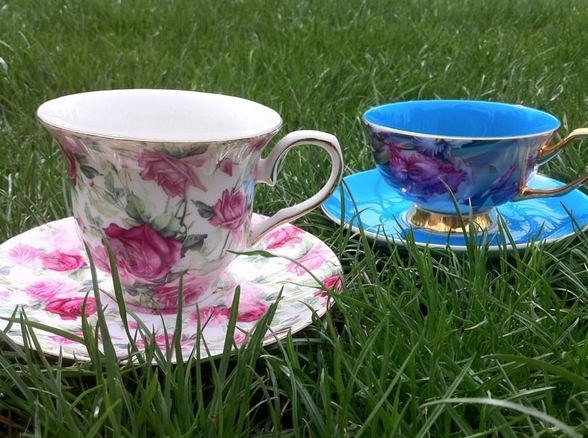 HAVE A LADIES TEA PARTY
Invite ladies and little girls over for a fun dress-up tea party. Use the party time "games" to share the true meaning of Easter (perhaps with the EvangeCube, the Gospel colors, coloring pictures, a Bible story book, or a short children's cartoon about Jesus). Share the Gospel and invite families to come to church.

---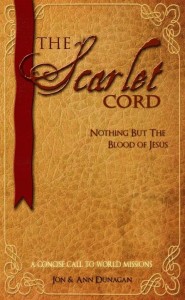 GIVE AWAY THE SCARLET CORD.

Spread a heart for world missions — by giving away copies of
THE SCARLET CORD: Nothing but the Blood of Jesus
to friends at your church or to mission-minded families. The Scarlet Cord is a concise call to world missions, emphasizing God's only way of salvation through the precious blood of our Lord Jesus Christ.
Here's a LINK to share this book FREE online: http://harvestministry.org/the-scarlet-cord
(Just add the KEY: GOODFRIDAY to download the book for FREE — PDF edition)

---
INVITE PEOPLE TO CHURCH.
Think about your neighbors and pray about who you could invite to church.
Walk through your neighborhood, and pray for various families, as specifically as you can.
Make a simple effort (perhaps with a phone call, a stop at their house with a plate of cookies, or a simple basket with Easter treats and a church bulletin or handwritten card) and INVITE them to come.
More people visit church on Easter Sunday than at any other time. Take advantage of the special holiday and invite families to come with you.
(Credit for the cute bunny photo is from a good article about how to focus on the true meaning of Easter in public schools from pastors.com)
---
For more ideas about how to instill a heart for world missions in your family, I invite you to come take a look at The Mission-Minded Family. A lot of my heart was poured into this book, in the hopes of encouraging families like yours for God's Great Commission.
---