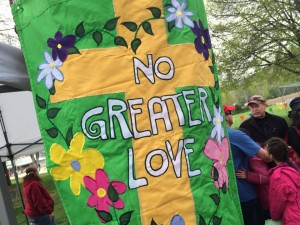 Have you ever wondered how YOU, as a Daring Daughter, or as a family, or as a church, could share the Gospel and "do missions" right in your local area? Consider the example of one ministry, simply being willing, creative, and faithful.
For over 20 years, Mid-Columbia Ministries (led by the extended Bell family — joined with many wonderful friends and local churches) has been sharing the Good News of Jesus Christ through creative evangelism in their local community in Washington state — especially on holidays.
The following video is from their 21st Easter outreach at a city park — sharing God's love through offering a community Easter egg hunt, preaching the Gospel, playing Christian music, giving FREE Bibles and Christian literature and sharing the message of the Cross and the Resurrection.
What a beautiful example of believers coming together to shine brightly for Jesus Christ!
More about Mid-Columbia Ministries — highlighted on Daring Daughters