Have you been "tagged" in this ALS Ice Bucket Challenge? Are you seeing family or friends posting videos and starting to get nervous? Are you wondering if this is even a worthy cause for you, as a Christian (and as a pro-life believer) to focus on?
We all know that we're not to blindly follow the crowd or to operate with a mindless "herd" mentality. So, what should we do?
---
Here's my response . . .
Very soon, this craze will pass. But off-and-on, other opportunities like this will arise. As Christians, and as advocates for our particular areas of passion, how are we responding to the needs of others? Are we conveying Christ's love and compassion, or are we quick to condemn and to find fault in others?
Some have said, "We can be pro-life without being pro-mean." I agree.
---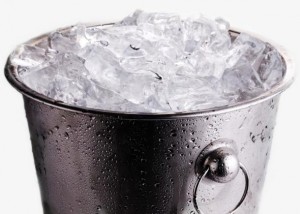 Here are 7 reasons why I decided, as a pro-life Christian, to ACCEPT the ALS Ice Bucket Challenge:
1. ALS is an "ENEMY" of LIFE. It is a terrible deadly debilitating disease and a mutual ENEMY of us all. ALS robs people of life and it is absolutely horrible.
In the Bible, Jesus explained how the enemy, the devil, comes to "steal, kill and to destroy" and then He showed us His heart and love for people as He said, "but I have come to bring life and life more abundantly" (John 10:10).
The ALS Ice Bucket Challenge is a relevant and time-sensitive platform for us as Christians (through a simple act of getting cold and soaking wet) to show the world, or at least our social media connections, that we care for people in need.
This viral social-media "bandwagon" is an opportunity for us to be a BRIGHT lights for Jesus and to do something to bring God's hope and JOY into an area of darkness. And if you tag #ALSicebucketchallenge, many people will learn about this need, from your perspective!
2. This is a simple way we can help to bring DARKNESS into the LIGHT.
Until now, very few people have ever heard of this horrible disease.
So what is ALS?
Amyotrophic Lateral Sclerosis is a progressive motor neuron disease that effects the brain and spinal column and causes a person's muscles to slowly stop working. In the United States, ALS is sometimes referred to as "Lou Gehrig's Disease" (in honor of a famous baseball player who died from it, but to many people, this man's name is also unfamiliar). When a person is diagnosed with ALS, he or she typically has only a few years remaining to live. The emotional, physical and spiritual impact deeply affects not only this person, but all of the family members and friends in their sphere of influence. It is difficult to care for and hard to understand.
Many people question why God allows this to happen.
GOD is so good, yet this disease is SO BAD. God has ALL POWER and He can do anything. We certainly don't understand the "Why's" of so many things in our world — like ALS — and how this can possibly make sense from God's perspective. But even so, as Christians, we can TRUST GOD. We can rely on His help and His grace for each day.
As believers, we should reach out with love and compassion for families and people in crisis, not enter the scene (especially into an arena of need perhaps never considered before) with harsh judgment and instant criticism.
---
one little blog post by Bo
has been seen over 5.5 MILLION times — and shared on facebook about 814,000,000 times.
---
Read Bo Stern's blog "Walking a Mile in ALS Shoes"
and learn what an ALS family really thinks about the Ice Bucket Challenge.
Steve and Bo Stern are Jesus-loving Christians, focused on living by God's grace and for his glory, no matter what. Steve grew up as a missionary kid in Africa and Bo is one of my favorite Christian speakers and the author of Beautiful Battlefields. Steve and Bo have been youth ministers, pastors and teachers, and they are parents and new grandparents with an amazing family! My husband and I have known Steve and Bo for about 20 years and we have grieved with them these past three years as their family (#teamstern) has been fighting for their lives against this "Goliath" of ALS. By the way, please keep Steve and Bo in prayer right now as they are being propelled into the national spotlight through this Ice Bucket Challenge as ALS representatives (and as always, as ambassadors for Jesus Christ).
---
5. ALS is NOT a political disease.
It is a horrible unknown monster. ALS is not just against men or against women or against any particular nationality. It has no qualms about social or financial status. It is not a liberal issue or a conservative issue. As I've already said, it's a horrible, terrible disease and a mutual enemy of all of us.
We need brilliant minds — scientists, doctors, researchers, caring people and praying Christians — to rise up and to begin to tackle this monster, TOGETHER, to start learning how this disease starts and how it spreads and what we can do to cure it or to stop it. Many people have joined in, from famous celebrities (such as Carrie Underwood, Oprah, Martha Stewart and Bill Gates) to political leaders (including President George W. Bush and Governor Chris Christie) to common everyday people (such as your coworkers and relatives).
6. You can participate without compromising a 100% pro-life conviction. Great pro-life examples doing the ALS Ice Bucket Challenge have included Christian Broadcasting Network (CBN), Dave Ramsey (of Financial Peace — who had over 400 people dunked at once with water from fire trucks) and Regent University.
You can designate your giving to NOT be used for embryonic stem-cell research or you can give to ALS supporting organizations that are 100% pro-life. Maybe there is a family in your local area currently fighting this terrible disease who could use help with meals or yard work, medical equipment or encouragement. Here is a LINK with good organizations that provide ALS research without stem-cell research. Or you could help with an organization like HOSPICE who often care for ALS patients in a person's final weeks.
---
Here's a great post about how and why Christians should participate in the ALS Ice Bucket Challenge, from a Pro-Life Perspective.
---
Quote from The Christian Post:

While the ALS Association is the primary organization linked to the "Ice Bucket Challenge," there are other nonprofits that fund research for treatments and a cure for the grave disease that does not involve the use of embryonic stem cells. Sen. Ted Cruz in his recorded "Ice Bucket Challenge," notes on his Facebook page that he personally supports John Paul II Medical Research Institute (as does Regent University) because the organization "respects human life."

Onlineforlife.org lists other organizations that do not support embryonic stem cell research that participants of the "ALS Ice Bucket Challenge" can donate to, including the Midwest Stem Cell Therapy Center (adult and nonembryonic stem cell research) and the Mayo Clinic (adult stem cells).
---
7. It's good to focus on OTHERS!!!
Yes, I know, this Ice Bucket thing has become crazy. Water-dumping videos are clogging our Facebook newsfeeds. Some are getting obnoxious (and even indecent). And yes, there are MANY other needs and social causes that need our support. We all care about so many issues. I especially care about the 1.6 billion people who have never heard the Gospel and billions more who have rejected God's salvation through Jesus Christ (many who have never seen genuine Christian love). Or what about the 143 million orphan children who need to be rescued, or all of the starving children in the world, or SO many precious people who are fighting against cancer or AIDS, or the 27 million people enslaved in human trafficking, or of course, our precious Christian brothers and sisters, right now, who are being brutally persecuted and killed in Iraq.
There are SO many needs. Why should we care about ALS?
Well, maybe because today, THIS is the need that has been placed in front of us. For whatever reason, this ALS Ice Bucket Challenge has come to the forefront for the first time EVER!!! Maybe we could extend compassion and love — even to an issue that's maybe not our own — and trust that as we are generous and loving to others, others will be generous and loving in our time of need.
As pro-life Christians let's join in the FUN and accept this challenge, not for the attention or because we're pressured into doing it, but for the GLORY of GOD.