Daring Daughters is launching a new prayer ministry calling Grandmas to Global Prayer.
The vision is "4G" — or 4th-Generation Prayer-Support Teams.
In technical terms, 4G stands for the 4th-Generation of mobile telecommunication devices and network support.

For us as Daring Daughters, 4G represents calling the 4th-Generation (our honored Grandmas) to help launch "4G" Prayer-Support Teams.
---
3-minute video: Catch the VISION for 4G Prayer-Support:
---
2-minute video: HOW TO START a 4G Prayer-Support Team:
---
God's Great Commission to "Go into all the world and to preach the Gospel" is a call for ALL generations. Not every woman or girl is in a season of life to actually be GOING and doing missions right now, but all of us can always can be PRAYING.
Our "4G" Prayer-Support Teams are specifically calling for Grandmas to provide a STRONG foundational PRAYER support for global ministry — through intercession, wisdom and encouragement. Our vision is for each Daring Daughter "Connect Group" to link together with a caring "4G" prayer-support team, each with at least 1 Grandma.
---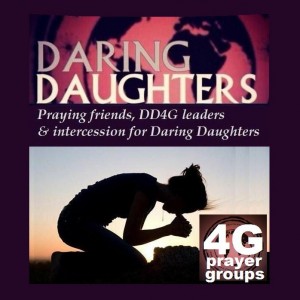 Each 4G group will have . . .
At least 1 Grandma
At least 2-3 Women
At least 30-60 minutes of Prayer-Time
A 4G Focus
4Grandmas – 4Girls
4Global-Missions – 4God's-Glory
---
If you are a Grandma with a heart for Global Missions, we invite you to join us. Or if you know a Grandma who could be interested, we invite to share this vision:

4G Info-Page (download on PDF — plus a 15-min. audio on mp3) < < <

Download "What We Believe"
Daring Daughters Statement of Faith < < <
---
NEW!!! 4G Prayer-Support Resources

Be sure to also see our PRAYER-PACKS
for 4G Prayer-Support Teams!!! >>> CLICK HERE!!!
---
If you are interested in launching a "4G" Prayer-Support Team . . .
Here's our simple online sign-up: